ANJI HENGSHENG THERMAL MACHINERY CO., LTD
Contacter:WANG Lan-fang
Mobile-Phone: 13757279988
Fax:0572 - 5666673
Phone:0572 - 5666675
Email:http://www.email-mark.com
Address:Anji County in Zhejiang Province Sanguan Industrial Park
TUBO-C
Do---Outside diameter of plain end section
Df---Diameter of top fins
Dr---Root diameter of finned section
Di---Inside diameter of finned section
T0---Wall thickness of plain end section
Tf---Wall thickness of finned section
G----Plain end length
Hf---Fin height
A----Incomplete finned section
L----Total length

Plain tube
Low finned tube
TURBO-C tube

"Turbo-C" Features "Turbo-C":
1.It is different from a conventional integral finned tube with an simply increased surface area.
2.Because of the sharp saw teeth fins,the film of condensed liquid is divided up to very thin and obtains an excellent heat transfer performance.
3.This is made by plowing up so that it is sufficiently reliable when applied to welded tubes.
4.By expanding the slits and the pitch between the fins and by doubling the height of fins,a higher efficiency can be obtained with high-viscosity refrigerant.
5.This tube is suitable for use with high viscosity refrigerant, It has excellent heat transfer coefficient with fins having a special shape ideal for the condensation mechanism.
6.When the refrigerant flows along the tube axis, performance can be improved and the pressure loss can be greatly reduced.
7.Helix slots are added inside the tube to improve the internal heat transfer coefficient.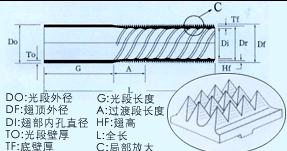 TURBO-C STANDARD SIZES - TYPE TURBO-C
Series of

Nomina
Dimensions

Plain End
Dimensions

Finned Section
Dimensions

Ridge
Dimensions

Out-side
Dia-meter
(Do)

Wall
Thic-kness
(To)

Outside
Dia-meter

Wall
Thi-ckness

Out-side
Dia-meter
(Do)

Wall
Thic-kness
(Tf)

Inside
Diam-eter
(Di)

Pith
of Fin

Fin
Height
(Hf)

Number
of
Ridges

Depth
of
Ridges

HSTC1830-1


18.88

1.30

18.88

13

18.49

0.64

16.05

0.77

0.58

30

0.51

HSTC1830-2
18.88
1.37
18.88
1.37
18.67
0.71
16.05

0.77
0.60
30
0.51
HSTC1830-3
18.88
1.50
18.88
1.50
18.49
0.89
15.54
0.77
0.59
30
0.38
HSTC1930-1
19.05
1.50
15.88
1.55
18.70
0.89
14.92
0.77
1.0
30
-
HSTC1930-2
19.05
1.30
15.88
1.40
18.70
0.65
15.40
0.77
1.0
30
-
HSTC2530-1
25.40
1.35
25.35
1.35
25.27
0.71
22.60
0.77
0.63
30
0.51
* Fin Number per Inch : 10~38EA