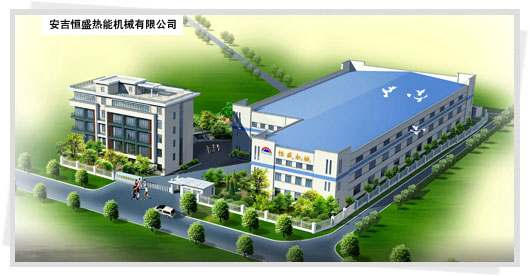 ANJI HENGSHENG THERMAL MACHINERY CO., LTD (Hereafter abbr. to HSTM) is located in Anji County, the northwest of Zhejiang province and situated the center of Yangtze economic zone, AnJi is 220 kilometers away from Shanghai and 65 kilometers away from Hangzhou, three high ways are merged into network which are Hangzhou-Changxing Highway, Shanghai-Jiangsu-Zhejiang-Anhui Highway and Shanghai-Jiaxing-Huzhou highway respectively, it's only spent 30 and 90 minutes if you come from Hangzhou and Shanghai, the Anji Xitiaoxi water way, one of the seventh largest river systems in Zhejiang, connects with Beijing-Hangzhou Canal, She has superiority in geographical environments and have well-equipped transport facilities with clear advantages.
????Anji is well-known as "Bamboo Town" and "White Tea Town" of China, she has become the first ecological tour county all over the country with its air quality reaching the national first degree and the water quality belonging to Ⅰand Ⅱgenera.
????Our company was established in April of 2004, occupies an area of 7500 square meters with registered capital 3,500,000 RMB. Specializing in compact heat exchanger and high efficiency economical energy equipment design and manufacturing.
The main products of HSTM include monometallic aluminum, copper and steel finned tube, corrugated tube, bimetallic finned tube, air cooler, electromotor cooler, different kind of compact heater exchanger、steam heater、coolers, liquid disposal vaporizer and silencer etc. our products are widely used in AUS 、petrochemical、nature gas、metallurgical industry、power station and boiler plant.
????Our company can design the pressure vessel as per GB and ASME code design and fabrication, compliance with "The Pressure Equipment Directive" regulation with timely delivery guaranteed, advanced technological skill, sophisticated & well-appointed equipment and well-equipped measuring means. we will try our best to satisfy every client's special requirements and provide customized products.
????Adhering to the unique industrial managing idea of "People As The Foundation, Trust And Honest The First", adhering to the quality policy of "Science And Technology Innovation, The Quality Lead, Customer Satisfaction, Continuous Improvement", we will provide the competitive excellent products and perfect service to the special demand of our customers, we sincerely welcome friends from all circles to visit or contact us through telephone, fax or E-mail. we are also pleasured to implement long –term and wide range trade cooperation with new and old friends in all circles both in China and abroad, and jointly create new future!